George Hay Winton 1909 – 1965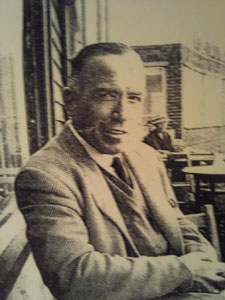 George Hay Winton was born in 1909. He was orphaned at a very young age, his mother dying when he was 8 months old, and his father passing away shortly after George's 9th birthday.He was brought up by his aunt and uncle and their children, and became more of a son and brother to them than a nephew and cousin. As George grew up he was given the nickname 'Dod' or 'Dodo' by his family.
In his youth, George became a keen footballer winning several medals. Sadly, a knee injury prevented him from taking a trial for his beloved team 'Hearts' who he had supported all his life.
George's love of sport continued into adulthood as he became an excellent golfer, even achieving a hole in one! George also had a great love of music and became a very proficient classical and jazz pianist.
Not much is known about George's scholarly achievements but he did confess to a school report which suggested "All his brains were in his feet"!
Prior to 1939, George worked as an accountant but 1939 brought the onset of World War II and, as for so many others, his life was to change dramatically.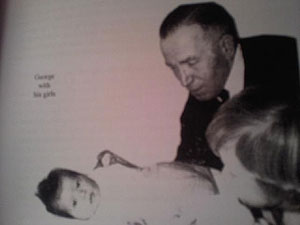 George spoke little of his Army life but he joined the Royal Artillery and received the 1939-1945 Star, the France and Germany Star, the Defence Medal and the War Medal. In later years, the only story his wife remembers him recounting was when, in a gun emplacement with other soldiers, he thought he had been wounded in his leg and had visions of getting home, but it transpired it was only hot cocoa spilt over him!
In his mid-forties, George had a cerebral haemorrhage – a stroke. Within 24 hours, he had a second. On the whole he made a good recovery but was left with a partially paralysed left arm and leg, sadly putting an end to playing his much loved golf and piano.
In 1958, George met Barbara Gould. They were engaged in 1959 on Barbara's 31st birthday and married in August 1960. In August 1961 their first daughter Jennifer Mary was born and in October 1964 their second daughter Lesley Joan was born.
On February the 26th, 1965 when Jennifer was 3½ and Lesley only 18 weeks old, George had a massive coronary and died within a few hours.
The Winton Foundation for the Welfare of Bears is set up in memory of George Hay Winton. The work of our Fostering Compassion project is particularly poignant and relevant given that George himself was brought up in a kinship care environment. Both the work of the Bear Foundation and Fostering Compassion serve as a fitting tribute to the father Lesley never knew, but always misses.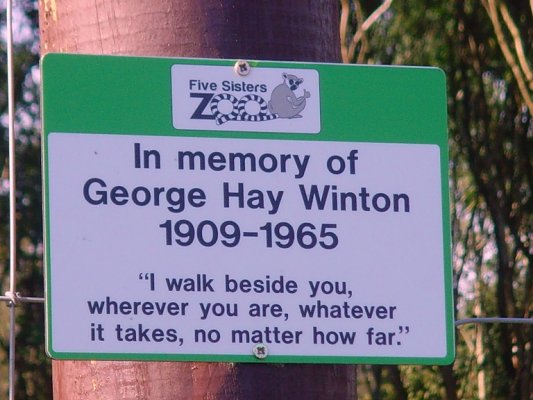 The plaque in memory of George Winton
at the bear sanctuary at the Five Sisters Zoo