It was always hoped, that as the Foundation grew, we would eventually be in a position to 'adopt' some bears in various rescue projects around the world. This would allow us to support the ongoing care and recovery of bears, rescued from a life of abuse and torture, that could never be returned to the wild. The Foundation will continue our efforts to provide better lives for bears, by committing to caring for these special bears, through our adoption program for the rest of their lives.
I am delighted to say that we are now in a position to adopt our first bear, so please meet the beautiful Bodo…
Bodo was rescued by the Animals Asia Foundation from the brutal Bear Farming industry in China.
Freed in November 2003, he arrived missing his right forepaw – probably as a result of being snared in the wild.
Bodo is a kind and gentle bear with a beautiful thin v-shaped crescent on his chest. He gets on well with all the other bears and is a great peacemaker. He often breaks up trouble between other bears, either by stepping in or pulling one of the bears away with his good paw! This brave and kind boy has overcome his disability to help the other bears.
The farmed bears arrive at the Animals Asia rescue centre in terrible shape, riddled with injuries and disease and out of their minds with anxiety.
Their recovery and rehabilitation is a long process involving months of surgery, physiotherapy and a specially formulated diet. But these bears need so much more – without constant stimulation for their intelligent minds and powerful bodies, they would soon get bored or even depressed.
By adopting Bodo, we help provide him with special treats to keep him happy and occupied – treats like fruit ice blocks, rubber kongs (durable bear toys that he loves to toss in the air), honey, raisins and tofu-filled bamboo shoots (which keep him occupied for hours!).
Our contribution also helps fund play equipment that is essential for the rescued bear's rehabilitation, such as swings and climbing frames. These may be simple pleasures, but they mean a lot to a bear that has spent most of its life tragically trapped in a small cage.
Please help us continue to give Bodo a happy and enriched life, for the rest of his life.
Anyone can support Animals Asia's befriend/adopt a bear program.
For further information visit: Animals Asia.
---
Max spent years of his life chained to railings for the entertainment of tourists. He was caught from the wild as a cub and used by his owner as a tourist attraction.
By night, he lived in a 4 metre square cage next to a small restaurant and each day he was dragged by a rope around his neck to railings 10 metres away. This was his life, day after day – chained to the railings – all for souvenir snapshots.
Poor Max endured this miserable existence without sight, having been blinded, most probably from a blow to his head while he was a cub which detached his retinas.
Thankfully, Max was rescued and taken to the Libearty Sanctuary in Romania.
A gentle giant of a bear, Max was released into a small area of the forest sanctuary in 2008. He uses his other senses of smell and hearing to get around the enclosure. He is now living a contented life in his own patch of forest, which has a water pool and a den and over an acre of trees and shrubs.
The Winton Bear Foundation has adopted Max to help care for him for the rest of his life and help the amazingly hard working staff at the Libearty sanctuary in Romania and their efforts to rescue abused and exploited bears in their country.
To learn more about Max and the Libearty Sanctuary visit milioanedeprieteni.org.
Dear Lesley,
I hope that you like my photo and that it will always remind you of me and will bring a smile on your face whenever sadness comes your way.
I am very happy here, and my human friends are making everything possible for us to have the best conditions possible.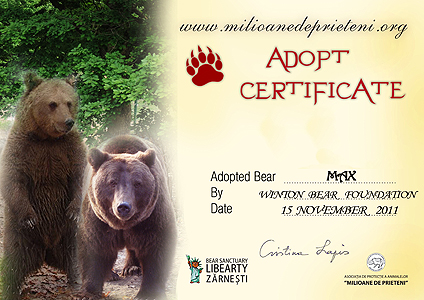 The autumn has arrived because I can smell the acorns on the ground all over my enclosure.
It's difficult for me to describe you the landscape as I can't see, but I am sure that it is a beautiful one. As far as I remember from my childhood, before my mother was killed and I was taken away from the forest, the leaves have to have a copper colour already and the trees and the bushes are leafless as I can feel how they are scratching my fur.
Here in the mountains the weather is getting colder and colder every day, and I know that the winter is very close. It will soon snow, because the mornings are already frosty and it seems to last almost the whole day and probably I will soon go to sleep as well.
I can still hear my friends laughing and playing in the other enclosures and I am so happy for them that they can finally enjoy the forest and the freedom that we all have dreamed about.
Best Wishes,
MAX