It was always hoped, that as the Foundation grew, we would eventually be in a position to 'adopt' some bears in various rescue projects around the world. This would allow us to support the ongoing care and recovery of bears, rescued from a life of abuse and torture, that could never be returned to the wild. The Foundation will continue our efforts to provide better lives for bears, by committing to caring for these special bears, through our adoption program for the rest of their lives.
Our little 'orphanage' is now quite full! Meet our adopted bears…
---
Bodo was rescued by the Animals Asia Foundation from the brutal Bear Farming industry in China.
Freed in November 2003, he arrived missing his right forepaw – probably as a result of being snared in the wild.
Bodo is a kind and gentle bear with a beautiful thin v-shaped crescent on his chest. He gets on well with all the other bears and is a great peacemaker. He often breaks up trouble between other bears, either by stepping in or pulling one of the bears away with his good paw! This brave and kind boy has overcome his disability to help the other bears.
The farmed bears arrive at the Animals Asia rescue centre in terrible shape, riddled with injuries and disease and out of their minds with anxiety.
Their recovery and rehabilitation is a long process involving months of surgery, physiotherapy and a specially formulated diet.
But these bears need so much more – without constant stimulation for their intelligent minds and powerful bodies, they would soon get bored or even depressed.
By adopting Bodo, we help provide him with special treats to keep him happy and occupied – treats like fruit ice blocks, rubber kongs (durable bear toys that he loves to toss in the air), honey, raisins and tofu-filled bamboo shoots (which keep him occupied for hours!).
Our contribution also helps fund play equipment that is essential for the rescued bear's rehabilitation, such as swings and climbing frames.
These may be simple pleasures, but they mean a lot to a bear that has spent most of its life tragically trapped in a small cage.
In 2019 Animals Asia withdrew their "Befriend a Bear" programme due to declining take-up, but we won't forget Bodo or cease donating in his name.
---
Max spent years of his life chained to railings for the entertainment of tourists. He was caught from the wild as a cub and used by his owner as a tourist attraction.
By night, he lived in a 4 metre square cage next to a small restaurant and each day he was dragged by a rope around his neck to railings 10 metres away. This was his life, day after day – chained to the railings – all for souvenir snapshots.
Poor Max endured this miserable existence without sight, having been blinded, most probably from a blow to his head while he was a cub which detached his retinas.
Thankfully, Max was rescued and taken to the Libearty Sanctuary in Romania.
A gentle giant of a bear, Max was released into a small area of the forest sanctuary in 2008. He uses his other senses of smell and hearing to get around the enclosure. He is now living a contented life in his own patch of forest, which has a water pool and a den and over an acre of trees and shrubs.
The Winton Bear Foundation has adopted Max to help care for him for the rest of his life and help the amazingly hard working staff at the Libearty sanctuary in Romania and their efforts to rescue abused and exploited bears in their country.
To learn more about Max and the Libearty Sanctuary visit here.
Dear Lesley,
I hope that you like my photo and that it will always remind you of me and will bring a smile on your face whenever sadness comes your way.
I am very happy here, and my human friends are making everything possible for us to have the best conditions possible.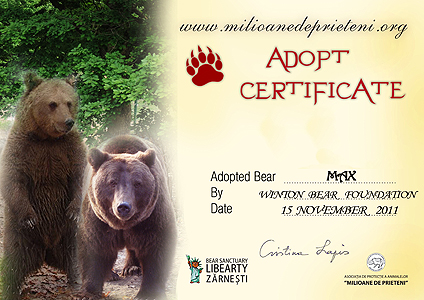 The autumn has arrived because I can smell the acorns on the ground all over my enclosure.
It's difficult for me to describe you the landscape as I can't see, but I am sure that it is a beautiful one. As far as I remember from my childhood, before my mother was killed and I was taken away from the forest, the leaves have to have a copper colour already and the trees and the bushes are leafless as I can feel how they are scratching my fur.
Here in the mountains the weather is getting colder and colder every day, and I know that the winter is very close. It will soon snow, because the mornings are already frosty and it seems to last almost the whole day and probably I will soon go to sleep as well.
I can still hear my friends laughing and playing in the other enclosures and I am so happy for them that they can finally enjoy the forest and the freedom that we all have dreamed about.
Best Wishes,
MAX
Update on Max
Very sadly we learned in July 2018 that beautiful Max was starting to show the affects of the 10 years of maltreatment while he was held in captivity, suffering before his rescue from severe osteoarthritis and possible spine problems. We sent funds to help pay for his treatment, but unfortunately despite all the effort, love and almost permanent medical care in the sanctuary he lost his battle for life shortly thereafter. He was a very special bear and he will be greatly missed.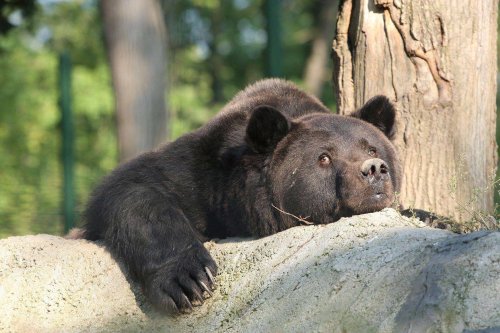 From those who knew Max best and looked after him so well, we'll close this tribute with their words:
"Farewell Max, we shall never forget your beautiful eyes that even though they could never see, they knew how to show us the most beautiful soul and sincere love!"
---
Following Max's sad passing, we decided to continue to support the sanctuary by adopting another bear, and chose Monica. Max's disabilities made him too vulnerable to live with more active, boisterous bears. But thankfully, he was never alone. His slow, gentle nature calmed Monica – a small, feisty brown bear – and they became friends and roommates. She had picked fights with most of the other bears, but Max and Monica found peace and happiness together for the rest of Max's days. Monica had spent more than 15 years behind bars in a zoo in Ploiești. In 2009 she finally said good-bye to this suffering – the steel bars and concrete floor of the cage.
We will be continuing to adopt Monica, Max's friend, in his memory. Max was the only one whom Monica accepted as a friend and neighbour and he taught her about peace, friendship and selflessness.
---
Fluffy and Scruffy are two of our very special adopted bears. These handsome boys now live happily at the Wildwood Trust in Kent but it wasn't always that way.
These stunning bears were rescued in November 2014 from shocking neglect in a disused bear breeding station in Bulgaria. They were born at the centre and had lived their entire lives in tiny barren concrete cells. They had never experienced anything other than this life, were desperately underweight and displaying signs of serious stress and anxiety. The bears were abandoned in a barren pit in a disused breeding centre in Bulgaria called Kormisosh. Kormisosh was used to breed bears to be shot by hunters until 1993 when bear hunting was outlawed. The bears received only basic care and had never been outside of their concrete pens, never seen a tree or walked on grass. They had no mental stimulus and the poor creatures were in danger of losing their minds.
Wildwood rescued the bears and brought them to the UK where they are currently rehabilitating and can at last experience as natural a life as possible and have the chance to learn and express their natural behaviour.
---
Before we adopted Monica, the first lady in our orphanage was Chitra. Chitra had lived eight years of her life as a dancing bear and was physically and psychologically exhausted by the time she was rescued. For Chitra, life lost all meaning when she was poached from the wild, separated from her mother, and subjected to a lifetime of cruelty in the "dancing bear" tradition. She had been subjected to years of abuse and injustice. Neglected and made to starve for months at a stretch, she had lost all hope.
Unsurprisingly Chitra is wary of humans and prefers the company of her fellow bears. In fact, she plays leader to her girl gang comprising of bears Kasturi, Arushi, Kashi, Avni and Binni. Chitra has a hearty appetite and likes eating watermelons, coconuts and chewing on sugarcane sticks. She absolutely loves dates and ends up stuffing mouthfuls at a time, even hoarding them inside a small mud pit to prevent the other bears from seeking them out! Chitra is currently in the care of International Animal Rescue and Wildlife SOS at the Bannerghatta Bear Rescue Centre in India.
---
Kudat became another of our adopted bears. Believe it or not, this lovely little bear was displayed as a 'Panda' in a mini zoo. He loves exploring his environment with great curiosity and marvels at all the tall trees. He likes splashing water from the trough but does not enjoy getting too wet. Malayan sun bears are the smallest bears in the world and are only found in Southeast Asia. These bears continue to be threatened by forest degradation, illegal hunting for bear parts and poaching to obtain young cubs for pet trade. Kudat is in the care of the Bornean Sun Bear Conservation Centre.
Unfortunately we had to say "Goodbye" to Kudat in 2018 as he is now only available for exclusive adoption, which, sadly, is way outside our financial resources. So instead, we are adopting Montom at the Bornean Sun Bear Conservation Centre.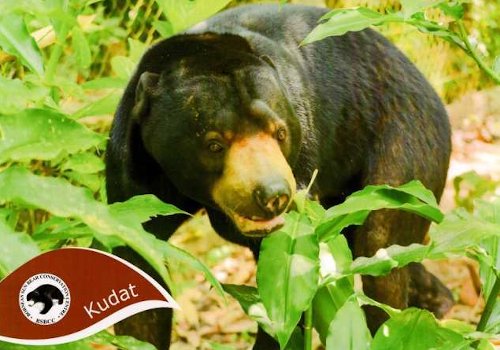 ---
We were delighted to adopt Montom after we could no longer afford Kudat's adoption and what a journey we've shared with him! Montom's reported story is that his owner's dog chased away his mother and left Montom behind. He was taken and kept as a pet for a year in a chicken wire mesh cage and fed with human food. The owner was willing to surrender Montom to Sabah Wildlife Department's Wildlife Rescue Unit.
Montom has grown into a very handsome, big, healthy and strong bear! He loves his food and eats extremely fast! It is pure joy to see him getting himself tangled between lianas, vines and tree climbers then trying to get them off as his feet get stuck in between, trampling and struggling around. He makes the best of his time when he is out in the forest enclosure. This cheeky explorer has a secret plan to make secret passages and trespass into neighbouring forest enclosures. His enthusiasm for life is a delight to see. He has proven he is ready to graduate and return into the wild.
We are happy to share that Montom was successfully released on the 10th of July, 2020. After five years of rehabilitation at BSBCC, we were glad to see Montom returned to the wild. Once the door opened, Montom ran straight into the forest and finally disappeared in the woods. Montom is finally free! We hope he finds his happiness and enjoys the adventure in the wild.
Watch the video of his release here.
---
After Montom's release we decided to adopt another bear from BSBCC. Meet Romalina! Romalina is 2 years old and is the youngest female sun bear cub at BSBCC. Her owner claimed that they found a cub alone in the forest and then kept her as a house pet, where she was confined in a tiny cage.
She was rescued and was handed over to the Sabah Wildlife Department, then sent to BSBCC on the 7th of July, 2018. She weighed only 5.95kg on arrival. She was subsequently found to be malnourished – she showed signs of stunted growth as a result of an improper diet and being confined in a small cage which restricted her growth. Her appetite is good, and she loves watermelon and honey dew! She will vocalize, shielding her food, especially coconuts, from other bears. She is developing into a lovely and playful bear cub.
Welcome to WBF's orphanage, Romalina!