AMAZING BUT TRUE
When a starving kitten wandered into a grizzly bear's pen, it looked like the feline would be lunch. Instead, the bear, with all due deliberateness, pulled a little piece of chicken out of his food bucket and dropped it beside his forepaw. The kitten walked up and ate it. Now the cat and the bear eat, sleep and romp around the pen together. The cat won't let humans near him unless the bear is close by.
---
There is some debate as to whether or not bears are fully or partially colour blind. However, a recent fascinating story from Sally Maughan of the Idaho Black Bear Rehabilitation Center would seem to certainly provide the answer with regard to Black Bears. Sally says: 'I can't speak for all bears, but black bears do see color. Even if I hadn't been told that, we had one cub that would not take a bottle until the "red" cap was on. I could put white, blue, green, but until the red cap was in place he wouldn't take the bottle. The minute I changed it, he was on the bottle as if he hadn't had one for days!'.
---
Take a nap
This bridge in the USA has a spectacular view of Donner Lake and Donner Pass on Route 80. A bear was walking across Rainbow Bridge at Donner Summit when two cars also crossing the bridge scared the bear into jumping over the edge of the bridge. Somehow the bear caught the ledge and pulled itself to safety.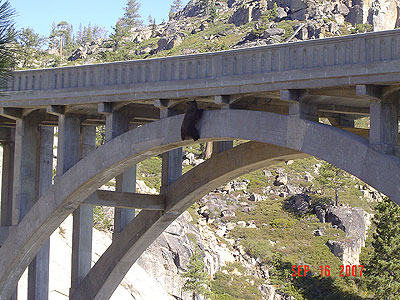 Authorities decided that nothing could be done to help that night so they returned the next
day to find the bear sound asleep on the ledge.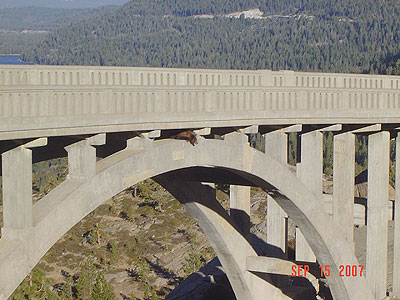 After securing a net under the bridge the bear was tranquilized, fell into the net,
lowered, then woke up and walked out of the net.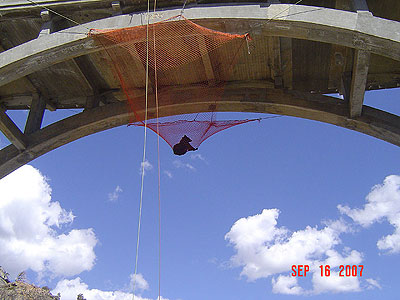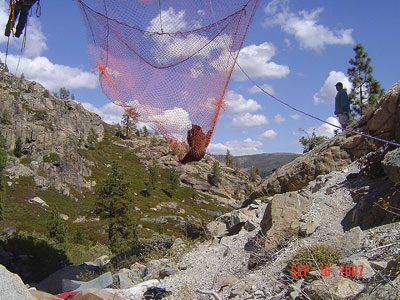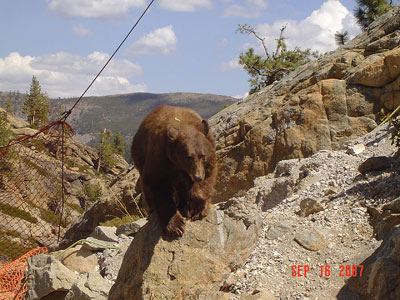 There is a moral to this story you know. This old bear made a wrong move and found he was hanging by his nails. Somehow he was able to pull himself up onto the ledge where he saw he was in a very bad, impossible situation and what did he do?
Yep, he took a nap and sure enough the situation took care of itself while he was asleep. The moral is that when confronted with a bad situation sometimes the best solution is… Take a nap!
---
Three 'Brothers'
They make an unlikely trio, but Baloo the bear, Leo the lion and Shere Khan the tiger have forged an unusually strong bond. Considering that they would be mortal enemies if they ever were to meet in the wild, it is stunning to see their unique and genuine friendship in these intimate pictures.
Rescued eight years ago during a police drugs raid in Atlanta, Georgia, USA, the three friends were only cubs at the time at barely two months old.
They had been kept as status symbol pets by the drug barons. Delivered to the Noah's Ark Animal Rescue Centre in Locust Grove, Georgia, the decision was made to keep the youngsters together, because of their budding rapport. 'We could have separated them, but since they came as a kind of family, the zoo decided to keep them together,' said Diane Smith, assistant director of Noah's Ark. 'To our knowledge, this is the only place where you'll find this combination of animals together.'
Living with the zoo's founders for the past eight years, Shere Khan, Baloo and Leo have now moved to a purpose-built habitat where the US public can now witness first hand their touching relationships.
'We didn't have the money to move them at first,' said Diane. 'Now their habitat is sorted and they have been moved away from the children's zoo areas where the public couldn't really get a good look. It is possible to see Baloo, who is a 1000lb bear, Shere Khan, a 350lb tiger and Leo, who is also 350lbs, messing around like brothers. They are totally oblivious to the fact that in any other circumstance they would not be friends.'
Handled by Charles and Jama Hedgecoth, the zoo's owners and founders, the three friendly giants appear to have no comprehension of their animal differences
'Baloo and Shere Khan are very close,' says Diane. 'That is because they rise early, and as Leo is a lion, he likes to spend most of the day sleeping. It is wonderful and magical to see a giant American Black Bear put his arm around a Bengal and then to see the tiger nuzzle up to the bear like a domestic cat. When Leo wakes up the three of them mess around for most of the day before they settle down to some food.'
Surprisingly for three apex predators with the power to kill with a single bite or swipe of their paw, they are very relaxed around each other. 'They eat, sleep and play together,' said Jama. As they treat each other as siblings they will lie on top of each other for heat and simply for affection.
At the moment they are getting used to their new habitat. Shere Khan is being quite reticent about the move, but Baloo, the bear, is very good at leading him on and making him feel comfortable and safe.'
Explaining that the three 'brothers' have always seemed to share a unique bond, Charles said: 'Noah's Ark is their home and they could not possibly be separated from each other. 'You just have to remember who you're dealing with when you are with them, though. It's when you forget that these fellows are wild animals that you get yourself in trouble.'
The trio's new habitat had to be constructed carefully, in order to accommodate its occupants. Jama said: 'The clubhouse had to be very sturdy for the guys, because they all sleep in it together'. She added: 'We had to include a creek, because the tiger and the bear both like to be in water.'
Lilly's Story
This is a wonderful story sent to us by Ann Bryant, Director of The BEAR League, California, that we'd love to share with you…
Bears Under the Hearth and In the Hearts
I'd like to share a story with you about a bear named Lilly and her very special human friends at Lake Tahoe.  Lilly lives in one of the best areas in the whole Tahoe Basin because she's right next to the lake, close to a huge meadow and shares the neighborhood with people who respect their bears.  Because her two-legged neighbors care about her they don't leave trash out and instead insist the bears all forage in the abundance provided by Mother Nature.
Sue, one of Lilly's human friends, called the BEAR League about two months ago with a major concern.  She had allowed the bear to take naps in the shade under her deck throughout the summer, thinking she would be safe there and knowing she wasn't hurting anything.  She and her family felt as though the house had been built on land that historically belonged to the bears anyway so why not share.  All was fine until recently when Lilly began to seriously chomp on the underside of the flooring.  It sounded as though soon there would be a huge hole chewed through the floor and a bear in the living room watching TV with the family.  As much as Sue liked Lilly she just wasn't comfortable with this prospect.  She called to reluctantly ask if we could gently evict her loveable but destructive 'housemate'.
Yes, indeed, we could force her to leave, however…I explained how Lilly's behaviour indicated she was preparing a nursery for the cubs she was obviously about to give birth to.  She was nesting.  This was all Sue needed to hear, she instantly resigned herself to letting the bear do whatever her motherly heart desired, she would not allow her to be homeless no matter what she did to her house.  But I suggested the family get Lilly a bale of straw for her bedding instead of sacrificing their home.  I described how selfish bears can be when it comes to sharing the TV remote and besides, straw makes for softer, cosier bedding anyway.  Everyone agreed this was worth a try and another neighbour named Katherine, called the next day to tell me all the straw had disappeared outside the entry to the den and Lilly had stopped shredding the floor joists.  All was quiet, for now.
Two weeks went by without incident.  Lilly was peacefully preparing to be a Mama Bear as everyone anxiously waited.  Then it happened…the miracle of birth.  Sue excitedly called to report the sounds of a tiny newborn baby bear cub, crying right under her living room floor. "I feel like a Grandma Bear!" she proudly told me.  She described how closely the cries resembled those of human babies and how thrilled her daughter and granddaughter were over what was happening at their home.  About a half hour later I got another call…a second cub had been born.
We all wished, in retrospect, that we had known this was going to happen before Lilly entered the den late last fall…we would have installed a 'den cam' and been able to watch this wonderful event as it was taking place.  Can you just imagine how many hearts could have been touched, how many minds could have been opened and forever changed?  No matter what the species, a mother's love is beautiful, the cry of a newborn baby is precious, and life is sacred.
Sue's family, friends and neighbors are proudly waiting for the day, this spring, when Momma Lilly Bear brings her teddy bear cubs out into the yard so they can finally see the babies they already dearly love.  They have all told me they will protect them from harm no matter what.  I believe them…and am grateful.  I wish every bear had guardian angels like Lilly does.  Oh that's right, they do…they've got all of us at the BEAR League.