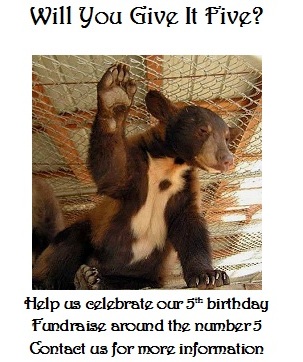 Five is a very special number this year for the Winton Foundation for the Welfare of Bears as we celebrate our fifth birthday in 2015, so we're issuing a Give It Five challenge to our supporters.
We're launching the challenge right now during Bears Matter Month but it will continue all the way through our fifth anniversary year so you have months ahead to reach your target.
Join in and you become part of our Team High Five and can take your pick of a whole host of easy ways to help out, depending on how you would like to help us reach that magic number. It could be anything from simply donating £5, saving £5 of loose change, getting five friends to 'like' our Facebook page or giving £5 a month throughout the year, to holding 5 coffee mornings or doing a sponsored 5 mile walk, run, swim, cycle or row.
You could come up with an innovative fundraising idea of your own centred on the figure five, or you might want to go for multiples or combinations that add up to five such as a sponsored weight loss to shed 10lbs (2×5), donate £20 (4×5) or cycle three miles, walk two to make up the five.
If you would like to join in the challenge, let us know and we will add you to Team High Five and send you a sponsor form if required.
To take part, request a sponsor form, or simply run ideas by us, email lesley@wintonbearfoundation.org
TEAM HIGH FIVE MEMBERS
| | |
| --- | --- |
| Sheila Dales | Saving loose change and 5ps |
| Julia Attwood | Saving 5ps |
| Lesley Winton | Sponsored 5 mile swim over 5 days and saving 5ps |
| James Oxley | 25 mile bike ride |
| Clare Ellis | 25 mile bike ride |
| Bear Saenz | To be decided |
| Andrea Stewart | Collecting loose change and Saving 5ps |
| Marjory Gillies | Saving 5ps |
| Joanne Rothery | Saving 5ps |
| Barbara Winton | Setting up a Direct Debit |
| E Brown | Collecting loose change and 5ps |
| Wendy Chambers | Collecting $5 of loose change |
| Elaine Edwards | Collecting loose change |
| Lorraine Deane | Setting up a direct debit |
| Adam Elder | Collecting loose change |
| Katrina Snow | Collecting 5ps |
| Janet Annand | Donation of multiples of 5 |
| Val FFW | Donation of £5 |
| Sue Macdonald | Donation of multiples of 5 |
| Lynne Chitty | Collecting 5ps |
| Jane Egan | Collecting 5ps |
| Edoardo Tonarelli | Collecting 5ps |